Operational activities undertaken by the maquis FTPF Jean Robert & Faïta
– From september 4th 1943 to october 13th 1943:
Camp Gabriel Péri then moved to Le Bousquet
– From october 14th 1943 to may 4th 1944:
Camp Jean Robert until may 4th, 1944 when the camp was dispersed and pursued by the Germans (settled in Salvezines)
Assault on the power station: water pipe and stores were damaged.
The group attacked a German DCA post above Odeillo and the Puyvalador dam. Five (5) Germans were killed and the battery was destroyed. All of their weapons and ammunitions were seized.
Surprise attack and seizing the equipment of the youth paramilitary camps (shoes, clothes, shovels, pickaxes).
Two (2) pylons connecting the factories of St Georges and Gesse were severed. The high-voltage line (35000 volts) was cut off.
Participation in the parachute drop.
Four (4) pylons of the electric line of the Méridionale de Transport de Force were disconnected.
On the 29th and 30th of July, along the national route 117, a group of 8 FTP partisans freed, Captain Villeroux, who was one of the A.S. leaders of the Pyrénees Orientales, and also brought back 27 German prisoners without losing any men!
In the morning, the Maquis FTP Jean Robert and Faïta attacked the gendarmerie (police station).
– August 4th 1944 at 2.00 p.m.:
Eight (8) armed men, after having cut the telephone wires at the railway station, hijacked and derailed an empty train in the Forge of Quillan, that served the German transportation system. The road and the railway track were cut off and blocked.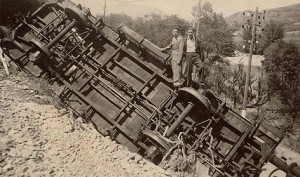 Arrival of reinforcements, 14 US commandos together with weapons.
Encounter with the Germans at the Col de la Bataille, on the way back from carrying out an act of sabotage of a bridge on the national route 117 between Maury and St. Paul de Fenouillet, and a second one between St. Paul and Caudies.
Liberation of Axat and Quillan, attack on a column of German troops in the Alet gorge with the help of the American commando. Lt. Paul Swank was killed in action.
– August 22nd and 23rd 1944:
Occupation and liberation of Limoux.
– From August 24th 1944 onwards:
Descending towards Carcassonne. All the Maquis units regroup.