Paul A. SWANK
Feb.12th, 1921—Aug.17th, 1944
First Lieutenant, Army of the United States – Corps of Engineers
"He helped to pay the price for world freedom and peace."
---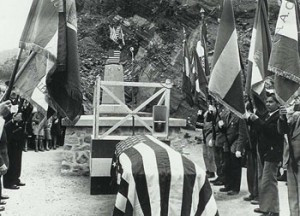 ---
Paul Swank was born February 12th, 1921, at Cape Girardeau, Missouri.
He entered the army as a buck private on August 18, 1942, he was sent to San Antonio for assignment, and from there to Sheppard Field at Wichita Falls. He had basic instruction at McCallie, and at Davidson and he had specialized in artillery. Between September 23rd, 1942 and January 20th, 1943, he finished four special courses.
Then he was sent to Fort Belvoir, Virginia, for more special training. Fort Belvoir is the top engineering school of the army. There he took training in engineering, and served as Cadet Colonel of his class. When he had finished at Fort Belvoir, he was sent to Camp Clairborne, Luisiana, and stayed there until August 18th, 1943.
He had volunteered to the Office of Strategic Services, and it was as an officer in the OSS.
He went overseas, to Algiers, Africa, in January of 1944. He was parachuted with his section into France, over Le Clat, Aude, August 11th, 1944.
He was killed in action against the enemy near Alet, Aude, France, August 17th, 1944.
He is buried in the Alet pass at the place where he died according to his last will.