The drop of the Clat: RAF Squadron 624
The US commando Peg was dropped at night between August 10 and 11, 1944. The plane was a STIRLING of the squadron 624 based in BLIDA (Algeria), its code was LK 178.
The crew was as follows:
W/C STANBURY C.S.G. (squadron's 624 wing commander)
F/LT FIELD
LT Co BROOKS
F/O CATON G.A.
W/O LIPPINCOTT R.T. (Canadian)
F/S HARRIS V.A.
F/Lt SHORT
W/O QUINN R.T. (Australian)
F/S SHARPLES J.
The mission was to drop a commando unit of 14 men with their equipment on the drop zone "ORDONNANCE" (located in the forest of Picaussel, the maquis of Picaussel reception's zone).
The plane took off at 00.08,and the drop was made at around 03.00.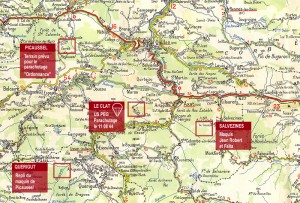 The radio operator Stéphan heard about the drop and informed the people in charge at Picaussel. The maquis had been attacked a few days before, had withdrawn to Quérigut and could not guarantee its reception.
Andre Lajou (son of Bayard) contacted Ribéro (the teacher of Salvezines), he informed him of the incoming drop.
Ribéro contacted Jean-Louis (Victor Meyer) leader of the maquis Jean Robert and Faïta who planed the reception.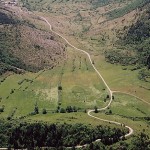 Using two cars and a van, a detachment of the maquis went to Le Clat to prepare the landing lights in a field located on the plane's flight path.
The identity code was the ' R' in Morse code.
When the plane approached, they set fire to the straw that was used to light up the landing zone, and turned on a car light to convey the proper signals.
Although the two fields were some distance apart, (approximately 12 miles) the pilot received the right signal and ordered the jump.
Due to the uneven ground, the drop was carried out at a higher altitude than the usual 1000 feet, and caused the dispersion of the men over a wide area on the ground.
The landing was rough for some of them (c.f. Armentor and White's testimonies), and three were sustained injuries.
The maquisards were very surprised when they met the Americans (c.f. Marti and Prosper' testimonies).
They were were so excited at the unexpected arrival of the Americans that it took them quite a while to get back to work.