Victor Teisseyre alias PAPA ( also called Georges)


Born in Fanjeaux on May 20,1907. He was the oldest and so nicknamed : Papa.
Victor Tesseyre was a short man. His small size was due to a car accident that occurred near the old bridge of Carcassonne when he was 15 years old. He was injured at the base of his neck. His growth was cut short.
He was a very strong-headed man but was like a father to all these young men who joined the underground.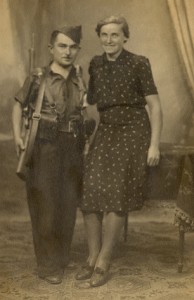 Settled in the area of Chalabre, these maquisards were provided with food by Papa, his wife Paula and his eldest daughter.
A communist militant, he organized the maquis and gave it the name of Gabriel Peri at first and then Faïta, in homage to the martyr of Nimes.
He was in excellent terms with Jean-Louis (Jean Meyer) and Caplan ( Jean Milner).
Touched by the death of his friends , Paul Vernières, Louis Bages, André Laffont, Helmut Thomas and Fernand Prétal at the Col de la Flotte, he payed them homage up to his death.
His family shared all his risks. When the Germans entered Chalabre, searching for the maquis, his wife, warned by the municipal watchman succeeded in escaping and took refuge in the woods together with her two daughters. The Germans were shooting anywhere aimlessly and despite their fear they escaped the enemy.

The Germans shot the young Pierre Fabre (17 years old) while trying to escape. Since there was no connection with the Resistance, this murder was not accounted for.
During the repression and fearing other betrayals, the maquis looks for another location towards the Corbieres. During a reconnaissance, André Riffaut, Joseph Alcantara, Attilio Donati, Auguste Pratz and Bourges fall into an ambush near Lairière.
Following these losses, the maquis withdrew to Salvezines and merged with the maquis Jean Robert.
Extract from a letter addressed to the Teisseyre family by Jean Milner.

We were three youngsters, even Papa, our father, young at heart and what a temper he had! An historian wrote once: "If General De Gaulle had been 20 cms shorter, his body, then brought back to a normal size, would have been a common one, put aside his will and authority, his strongest qualities."
If Papa had been 20 cms taller, apart from his personality, he would not have been so remarkable. The first time I saw him he was full of life, with a small voice, restless, out of a Grimm or Walt Disney tale, authoritarian with all the maquisards, most of them could have been his sons.
To my knowledge, nobody ever laughed at his small size, his vivid talks, and his moral. All we knew about him was his attachment to his communist convictions and the risks he undertook with his family, he was obsessive with order and discipline. He was a person who showed authority but was also very gentle.